11 Nov

Healthy Thanksgiving Recipes with a Twist

Living healthy doesn't mean you have to miss out on full flavor. Below are our signature favorites delivering healthy twists on Thanksgiving staples. We promise, your guests will love them, and so will you!

Ellen's Recipe: Low Fat, Big Flavor Marbled Pumpkin Cheesecake

*215 calories and 8 grams of fat per slice

Serves: 16

Crust:

20 gingersnap cookies crumbled and mixed with 1 tablespoon coconut oil

Lightly oil a 9-inch spring form pan / wrap the outside with a double thickness of aluminum foil. Pre-heat oven to 325. Press gingersnap crumbs evenly into pan and set aside.

Filling:

20 ounces low fat cottage cheese

12 ounces of reduced fat cream cheese

8 ounces reduced fat sour cream

1-cup coconut sugar

4 tablespoons cornstarch

1 large brown egg

2 egg whites separated from brown eggs

1 ½ teaspoon pure vanilla extract

¼ teaspoon salt

1 ½ teaspoon freshly squeezed lemon juice

¾ cup canned pumpkin

3 tablespoons dark brown sugar

2 tablespoons unsulfured molasses

1-teaspoon ground cinnamon

1-teaspoon ground ginger

½ teaspoon nutmeg (freshly grated is best)

1/8-teaspoon ground cloves

– In a food processor, puree cottage cheese until very smooth. Add room temperature cream cheese, slowly, sugar and 3 tablespoons of cornstarch. Process until smooth. Add egg, egg whites, sour cream vanilla and salt. Blend well. Pour 3 1/3 cups of filling into small bowl. Set aside.

– Add pumpkin, brown sugar, molasses, cinnamon, ginger, nutmeg, cloves and 1 tablespoon of cornstarch to remaining filling. Blend well.

– Pour 1 cup of vanilla filling into center of crust. Then, alternate pouring pumpkin filling and vanilla filling into crust, creating a circular ripple similar to throwing a stone in a lake. It looks beautiful. But, if you prefer a marbled effect, gently swirl a knife through the filling without touching the crust (sides or bottom).

– Place cheesecake in shallow roasting pan. Pour boiling water into pan so water comes up at least a half inch on sides of pan. Bake, uncovered, for 50 minutes. Edges will set but center will jiggle lightly. Turn off oven; spray knife with cooking spray and run along edges of cake. Let cake cool in oven, with door ajar, for an hour.

– Transfer cake from water bath to wire rack and remove foil from bottom / sides. Cool to room temperature for 2 hours. Refrigerate for at least 2 hours, uncovered. Serve. Can be stored in fridge, covered with plastic wrap for up to 2 days.

Ellen Says: This has been my signature go-to dessert for years. It has so much flavor you would never know it has half the fat and calories. Top with homemade whip cream or sprinkle a few almond slivers on top – it's also great in the morning with coffee!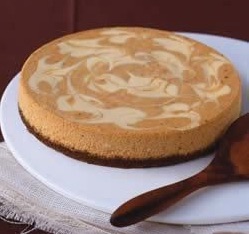 Ashley's Recipe: Sugar-Free, Apple-Orange Cranberry Sauce
Serves: 8
Ingredients:
2 bags of fresh cranberries
1/4 cup of orange juice
1 cup of diced, Granny Smith apples
1 cup of water
¼ teaspoon of ground cinnamon
– Set the stove to medium – high heat
– In a pot, pour fresh cranberries and discard any soft ones
– Stir in diced, Granny Smith apples, orange juice, water and cinnamon
– Keep the stove on medium to high heat and stir constantly for about 10 – 15 minutes (until the cranberries start to pop)
– Pour the cranberry sauce to a bowl and let it cool for an hour
– Refrigerate until ready to use
Ashley Says: The next day, I usually crave something sweet, but will avoid any extra calories post-feast. So, instead of over-indulging, I'll get a low-fat plain Greek yogurt and drizzle some of the sugar-free, apple-orange cranberry sauce on top. Then, for an extra crunch, I'll get some slice almonds and sprinkle it on top. And, voila! It's a sweet treat without the guilt.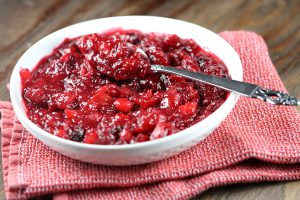 Freddi's Recipe: Sage & Brown Butter Brussel Sprouts
Ingredients:
2 pounds of Brussels sprouts; trimmed & halved
2 tablespoons of olive oil
2 tablespoons of butter
6 leaves of fresh sage; chopped
salt & pepper
– Preheat oven to 425 degrees
– Toss sprouts with olive oil; Place down on a baking sheet
– Roast for 10 to 12 minutes, or until soft
– Heat butter in a small sauté pan over medium heat
– Cook sage until butter is lightly brown for about 2 to 3 minutes
– When sprouts are done roasting, remove from oven and pour butter and sage mixture over top
– Toss to coat, and season with salt and pepper to taste
Freddi Says: I'm all about making any meal a little more nutritious – as long as it's still delicious, of course. My personal favorite side dish on Thanksgiving is Brussels sprouts. Usually covered in bacon bits, they get a bad rap for being the "bad guy" of the vegetables, which is why I love this recipe. This is a guilt-free take on the veggie, and most importantly – FULL of delicious, buttery flavor.