30 Nov

Wishing you a Very Zen Basel, Miami

It's that time of the year again, Miami! Happy Basel – rather, Happy Zen Basel. Yes, Zen Basel might sound like an oxymoron, but Modern ŌM is on a mission! Modern ŌM wants to provide a feeling of bliss during an especially chaotic time with "mindful moments" at Design Miami, Surf Lodge Bungalow, MOCA, and Love Lost, Miami with a pop up at Vice City Bean. From November 30 – December 3, join us for inspiring meditations and feel the true "magic" of our city.

Design Miami: Friend of Modern ŌM, Rockstar Shaman Alyson Charles will lead meditations for exhibitors prior to the fair opening and for VIP guests in the afternoon. Seven minute meditations, 6 times a day, these quick sits are a great way to stay centered.

– Available for Design Miami pass holders Wednesday, Nov 30, and Saturday, Dec 2 at 5:00 p.m., 5:10 p.m., 5:20 p.m.

Surf Lodge Bungalow: Led by Modern ŌM's tribe of healers, these 30-minute daily blessings, rituals, and sound bowl immersions will deliver mindful moments for guests.

– Available for invited guests on Wednesday, Thursday, and Friday at 12:30 p.m.

*A little birdie told us supermodel Elle Macpherson is making an appearance Friday!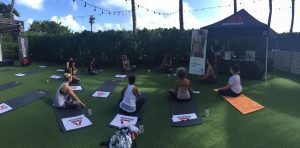 MOCA: Modern ŌM, along with Luchi Estevez and and featured artist Antuan Rodriguez's exhibition The Other Dimension, will lead daily meditations.
– Available to pass holders and guests of the museum.
Lost Love, Miami: Modern ŌM will lead a 30-minute meditation celebrating compassion at the Filling Station.
– Thursday, Dec 1 at 6:00 p.m.
Vice City Bean: Modern OM's pop up shop will deliver mindfulness and life gear great for holiday gifting!