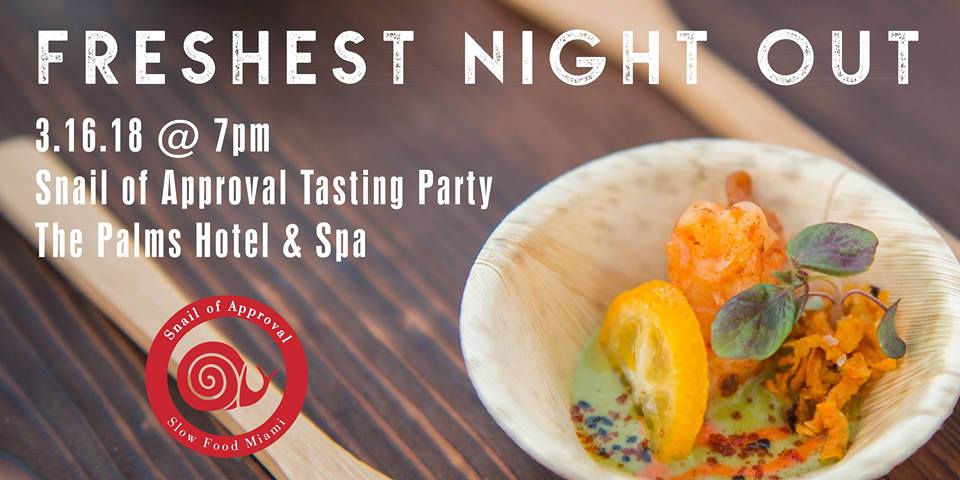 12 Mar

Essensia Hosts Slow Food Fundraiser

Essensia at The Palms Hotel & Spa hosts Slow Food "Freshest Night Out" on Friday, March 16, a night full of sustainable and healthful eating celebrating the "Snail of Approval" award winners. The evening begins at 7 pm, uniting dozens of the city's top chefs, local growers and producers, with proceeds benefiting Slow Food Miami's Edible School Garden Program.

Essensia, a leader in farm-to-table and known for its sophisticated upscale cuisine, will showcase vibrant bites finished with fresh picks from the on-site "Chef's Garden".

Slow Food Miami is the local chapter of Slow Food USA that supports the community from the ground up. They plant to encourage the enjoyment of foods that are local, seasonal and sustainably grown; to the local growers and artisan food makers for their use of sustainable methods.

Stroll the beautiful grounds of The Palms while enjoying incredible vegetarian items, heritage raised meats, craft beers and spirits directly from South Florida.

For more information and tickets, click here.

The Palms Hotel & Spa is located at 3025 Collins Avenue, Miami Beach, FL 33140. For reservations at Essensia Restaurant & Lounge, please call 305.908.5458 or visit thepalmshotel.com.