29 Nov

Pre- Basel 2018 – Our Top Picks Before the Sprint
Renowned Miami hair stylist, Vaso Spirou, has built her reputation on perfectly taming unruly locks in Miami's inconsistent weather – windy, rainy, sunny, humid. Her self-titled Salon Vaso offers the latest in hair, body and nail treatments for both women and men and has become a go-to beauty spot on Miami Beach.
Pull it Together ($90): Begin with a relaxing and invigorating Phyto head massage, which clears the mind and energizes the spirit. Add a wash and sexy blowout or a signature braid with an express pedicure and you'll be back on your feet and ready to go
Tailor Made ($60): Basel beauty isn't just for ladies. Men should be glam and polished as well. Tailor-made men receive a haircut, custom facial grooming and a complimentary glass of Macallan scotch
Opens Tuesday through Saturday from 10 am to 8 pm. Sunday and Monday / and home/hotel
1500 Alton Road, 2nd Floor Miami Beach, FL 33139.
Please call 305.674.7470 or www.salonvaso.com
ArtHood 56 Grand Opening – Nov 29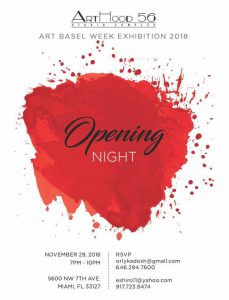 Get the first taste of Art Basel tonight, at the ArtHood 56 grand opening.
Revisit amazing work from the Art Basel Week Exhibition 2018.
RSVP at orlykadosh@gmail.comor eshiro11@yahoo.com
November 29th, 2018
7pm – 10pm
ArtHood 56 – 5600 NW 7thAvenue, Miami FL33127
Cannonball Club at The Vagabond Village – December 1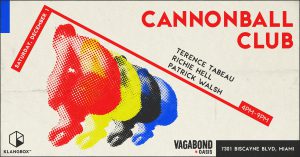 Enjoy some poolside downtime and sunset music this Saturday at the Vagabond Village Miami! The perfect event to get you ready for Art Basel!
https://www.vagabondsushi.com/events/
Vagabond Village – 7301 Biscayne Boulevard, Miami FL33138
https://www.vagabondsushi.com
Faena Festival Grand Opening – Dec 3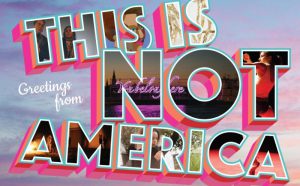 Faena is always over the top with an undercurrent of importance.  "This is not America" ties Miami's role as a "port that welcomes migrants, refugees, and tourists from across the US and the Americas, and from countries throughout the world."
Free and open to the public, the fair will feature all kind of art and performances throughout the entire Faena district, including the hotel, the theater, the Faena Forum and the sidewalks around the area. This is definitely an event you don't want to miss!
From December 3rdto 9th, 2018.
Collins Avenue from 32nd to 36th Street; faenafestival.com/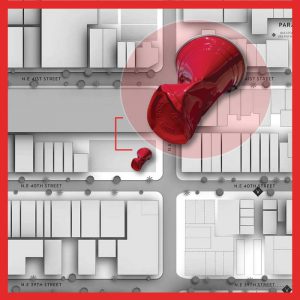 The Monumental red SOLO Cup sculpture from Paula Crown, JOKESTER 2, is coming to the Miami Design District on Tuesday, December 4.
Representation a giant red stop sign, the art piece is asking us to consider the effects of an overabundance of single-use plastics and other pollutants.
For the Art Basel week, Paula Crown has partnered with Surfrider Foundation Miami Chapter as part of their "Rise Above Plastics" campaign.
Snap a photo of yourself with JOKESTER 2 and tag @paulacrown_art,  #JOKESTER and #SOLOTOGETHER.
For every photo shared on Instagram during this week, the Surfrider Foundation Miami Chapter will clean 1 lb. of plastic waste off Miami's beaches.
Their goal? Cleaning 2,500 off Miami's beaches during the Art Basel week!