30 Dec

Ototo Den Celebrates New Year's Eve with Toshikoshi

Ototo Den Denver, will be open tomorrow night, especially for New Year's Eve.

In Japan, "Osechi Ryori" is one of the most important meals of the year, with each dish serving as a symbol or wish for the coming year. ⠀Ototo Den will offer "Toshikoshi", a unique six-course tasting menu inspired by "Osechi Ryori".

The menu includes:
Kaluga Hybrid Caviar 'bump' and Kusshi Oyster with ponzu gelee and yuzu cucumber mignonette⠀
Lobster and Madai Chawanmushi ⠀
Composed dish of Datemaki Tamago, Kombu-wrapped Unagi, Beef-wrapped Burdock Root⠀
Wagyu Beef Yukke with stabilized egg yolk⠀
Egg Drop Toshikoshi Udon with snow crab ⠀
Chestnut Mochi Cake with vanilla and strawberry cream⠀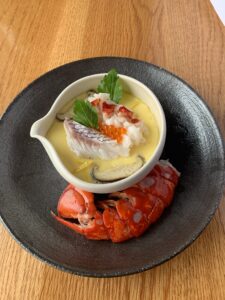 Pictured: Lobster and Madai Chawanmushi with lobster dashi egg custard, trout roe, red snapper, shiitake, mitsuba Japanese parsley and yuzu.
– Tai (鯛), red sea-bream is associated with the Japanese word medetai, symbolizing an auspicious event⠀
– Lobster or Ebi (海老), symbolizes a wish for a long-life, suggesting long beard and bent waist. Because of their long antennae and curved body (like the curved back of the elderly), shrimp are a symbol of longevity and are eaten during the new year.
Price is $120 pp ++ including a glass of Champagne.
1501 South Pearl St,
Denver, CO, 80210
(303) 733-2503